Browsing Category: "Product Review"
Our skin plays a vital role in the overall health of our body. Maintaining healthy skin may be considered as a challenge especially if you're exposed to various irritants such as smoke and dust and if you do not have a healthy lifestyle. There are, however, certain things that you can do to prevent early skin ageing and improve the health of your skin.
As a WAHM, I am not exposed to the usual external factors that can harm the skin  because I don't go out that much especially on weekdays. But that doesn't mean that I don't make an effort to make sure that I am able to keep my skin healthy. Aside from a balanced diet and regular exercise, I also make sure that I make use of products that will help make my skin healthy and smooth. This is why I'm glad that there are products like Myra® VitaSmooth and VitaWhite Facial Wash. I am very particular with the products that I use on my skin, especially on my face mainly because I suffer from breakouts and skin irritation when I use facial washes that are not suitable for my skin.
Myra® VitaSmooth and VitaWhite Facial Wash
Myra® VitaSmooth and VitaWhite Facial Wash are multi-benefit products and will be the only facial wash in the market with Vitamin E beads to help keep skin healthy and nourished while riding skin of excess oil and dirt.

Enriched with antioxidant Vitamin E beads which protect and nourish skin to help keep it healthy with a youthful glow.
Has Moisture Plus formula that retains and seals in skin's natural moisture, keeping it hydrated and more supple.
Contains French Spring Sea Water and Aloe Vera Extract that improves skin elasticity and helps keep it smooth and young-looking
It is hypoallergenic and dermatologist-tested to be safe for everyday use.
SRP 70.00php for the 50mL tube.
Best used with Myra Facial Moisturizer or Myra BB Cream for added coverage during daytime.
Enriched with antioxidant Vitamin E beads which protect and nourish skin to help keep it healthy with a youthful glow.
Has Biowhite Complex which is derived from plant extracts that gently whitens skin
Has Niacinamide that evens out skin tone by reducing red blotches to make skin more radiant.
Hypoallergenic and dermatologist-tested – Your assurance that it is mild, gentle and safe for everyday use.
SRP 75.00php for the 50mL tube.
Holistic skin care tip : Younger looking skin lasts longer when you take care of it inside & out. Take Myra capsule to renew damaged cells from the inside then apply Myra moisturizer after washing with Myra facial wash to nourish your skin.
I have been using both products alternately for the past few days now and I must say that both are indeed gentle to the skin and do not cause skin irritation. Although it will take several days more to see any noticeable effect, especially the whitening facial wash, I can see and feel the difference that these facial washes bring. I also like its smell, definitely mild and not offensive. I plan to use it with their moisturizer soon so that I can see the full effects of what Myra holistic care is all about.
To learn more about Myra® VitaSmooth and VitaWhite Facial Wash watch their latest TVC here:
An #OOTD post is something that most of us would come across online several times a day. Whether they are of friends or of random people, these posts do not only give us an idea on the latest fashion trends or what to wear the next time we go out but they also give people a chance to express their own sense of style. Although we all have our own considerations on how to decide which specific look to go for on a specific day (such as comfort, style, the weather, our present mood, etc.), I'm sure that most people would agree that there is one important factor that can truly help us pull off the look that we want – confidence. And it's not just about looking confident but also about feeling confident.
For moms like me who are always on the go and have to attend to multiple tasks throughout the day, it is important that we do not only put together an outfit that make us look good but also make us feel confident. We also need to have products that we can rely on that will make us confident as we go through the day,whether we putting together a creative and nutritious lunch for the children, attending a parent-teacher conference or doing some last minute grocery shopping for some food essentials.
This is why having good personal hygiene habit is important. We need to have access to safe and effective personal hygiene products that will make us feel clean and confident throughout the day. It can be such as hassle and not to mention time consuming if we have to take a trip to the nearest restroom several times a day just to make sure that we still look (and smell) good.
One of these essential must-haves for women would have to be a feminine wash. The use of a wrong one can cause different problems such as irritation and skin breakouts.
If you are still in the process of choosing a feminine wash, then look no further, because Unilab, a trusted name in quality health care, has recently launched a new line of feminine wash that caters to the varying needs that women of different lifestyles have. Priva Intimate Wash has two variants that offer specialized benefits that I'm sure any woman would love.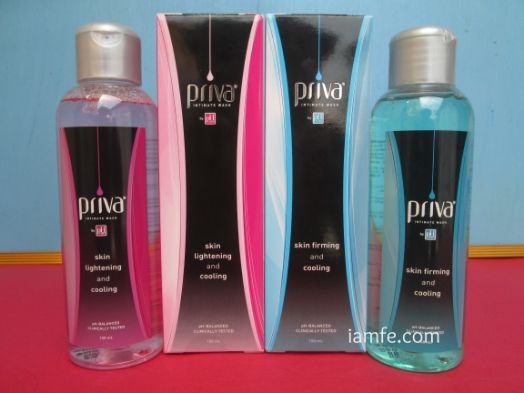 What is Priva ?
Priva Intimate Wash by pH Care is the first and only cooling wash that is formulated to give extra special benefits and to revitalize the delicate feminine area. Cooling is still one of the drivers for freshness and cleanliness when it comes to feminine wash usage – the cooling is brought about by Revitacool™, a special ingredient that leaves a tangible cooling effect. It is a product of Unilab, a trusted name in safe, effective and affordable healthcare products.
It has a pH-balanced formulation combined with tried and tested ingredients that deliver a number of benefits including skin lightening, firming and improved skin elasticity.
Priva Skin Lightening and Cooling
♦          Formulated with gluthathione, a renowned whitening ingredient, and natural strawberry extracts that help lighten dark skin areas.
♦          Contains Revitacool™, a gentle cooling ingredient to keep you cool and refreshed every time you wash.
Priva Skin Firming and Cooling
♦          Formulated with collagen, a known firming ingredient combined with natural extracts of Kwao Krua, an herbal root found in Thailand, that helps improve skin elasticity and firmness.
♦          Has Witch Hazel extracts that help retain the skin's natural moisture.
♦          Contains Revitacool™, a special ingredient that gives an extra cool feeling after wash.
Is Priva safe for everyday use?
Despite the product having specialized benefits, Priva Intimate Wash is clinically tested by obstetrician-gynecologists to be safe for everyday use in the intimate area and, with regular use, to deliver noticeable skin lightening in 2 weeks and skin firming in 6 weeks.
My take:
I was given the opportunity to try both variants and I must say that I am satisfied with both of them. I have actually been using pH Care for years now but I wasn't hesitant about trying Priva since it is also from Unilab. I am very particular about trying new products particularly personal hygiene products because I don't want to have the same unpleasant experience that I've had with the other products that I have tried before. I am also prone to skin irritations and allergies which is why I stick to specific products that are suitable for me.
What I like about Priva is that it truly makes me feel fresh and clean all day. I also like the fact that the smell is not overpowering. For now, I can't attest to the skin lightening and skin firming effect that Priva offers since I have only been using the product for a little over a week. What I can say for sure is that aside from being safe for everyday use, the cooling effect does last for hours and it's also very practical because a 150mL bottle will surely last for a long time since a small amount is enough for every wash. I do hope that they will also have Priva feminine wipes in the near future just like pH Care.
Whatever outfit you may choose at any given day, it can only be effective and worthy of an #OOTD post if you are confident and you stay confident all day. And I believe being confident begins with knowing that you can stay clean and fresh all day by using safe and effective products such as Priva.
Learn more about Priva and Unilab through Facebook  |   Twitter  |   Instagram   |   Youtube
Disclaimer :  I received no compensation for this review apart from the products (Priva) sent by Unilab. Opinions expressed are 100% my own and may not necessarily conform with those of yours. These opinions are based on my own experiences after using the said product.
The use of public restrooms is something that all of us are wary about especially since we know that the risk of getting exposed to bacteria, germs and virus is considerably high in such places. There are instances, however, when we have no choice but to use the nearest public restroom. I remember when I had to stay for a couple of days at the hospital for an RAI treatment that even though I won't be sharing the restroom with other patients (the treatment requires that I stay in isolation in my room), I made sure that I brought with me all my personal hygiene essentials to make sure that I stay clean, fresh and protected. One of my personal hygiene must haves is my feminine wash. Using it has been part of my daily personal hygiene routine. (After my stay at the hospital though, I had to leave everything including my bottle of feminine wash because I cannot bring anything back home since everything must be disposed immediately due to the nature of my treatment).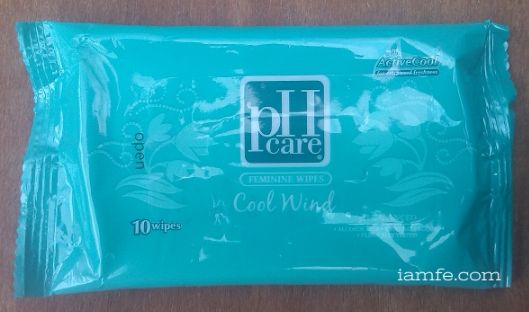 Although the use of feminine wash is quite common these days, bringing a bottle with you wherever you go is not possible or even practical. It's a good thing there is pH Care Feminine Wipes. I have been using pH Care Feminine Wash for quite some time now and I must say, I am truly glad that Unilab now has the feminine wipes version of it. What do I like about pH Care Feminine Wipes? It is pH-balanced, hypo-allergenic and alcohol free. You get the same gentle cleansing effect that you get from the feminine wash variety. It is clinically tested and safe for everyday use so you don't have to worry about irritation in your intimate area. More importantly, what I like about it is that it is from Unilab, a trusted name in quality healthcare.
pH Care Feminine Wipes is readily available in most drug stores and supermarkets nationwide. It comes in two variants, Cool Wind and Passionate Bloom. Each travel pack contains 10 wipes. Go give it a try and see for yourself why it is a must have not just for busy women on the go or work-at-home moms like me but for all women who value feminine care and hygiene. 
Learn more pH Care Feminine Wipes and other Unilab Products through : Website | Facebook | Twitter | Instagram | YouTube