Browsing Category: "Pinay Mommies Community"
During weekdays (school days) I wake up at 4a.m. to prepare for my son's breakfast and baon for school. And if I have to finish some online work the previous night, it would mean that I only get around 3-4 hours of sleep.
Last night I finished work really late so I was only able to sleep for like 3 hours. Since I do not have any pending work that is due for a couple of more hours, I decided to sleep again after my son left for school before 6a.m. I was able to sleep for another two hours.
And even if I'm still sleepy, I'm starting the day with a smile on my face because of these: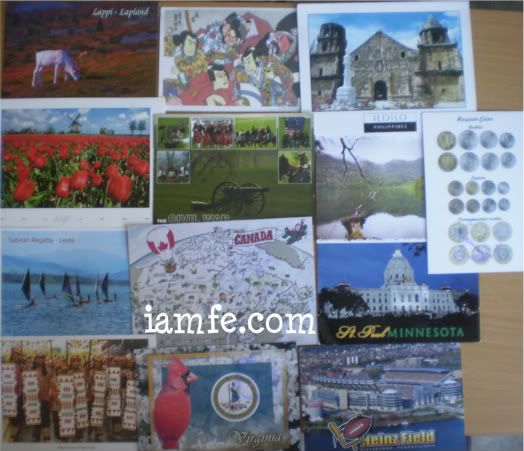 Postcards from online friends can really bring a smile to anybody's face, wouldn't you agree ?
I hope you're all having a great week so far.
I have mentioned before that I plan to put up another blog that will serve as a home for my new hobby, collecting postcards. My husband is also excited about it since he will also get to feature his coin and stamp collection.
The blog, Creations & Collections, has finally been launched and so far , we have made a couple of posts about the postcards that I have received and the new commemorative stamps that has been added to my husband's collection.
I have been swapping postcards with the other moms from PMC and so far, I have sent and received quite a number of them. A couple of days ago, I received a total of six postcards and I can't wait to make a blog post on each of them. I have so far made a post for three of them.
It was also through the other moms from PMC that I have learned about PostCrossing. It is a site wherein a member gets to send and receive postcards from random members from anywhere in the world.
Initially, a new member like me is allowed to send five postcards. I was assigned to send postcards to members from Taiwan, Finland, New Zealand, USA and Russia. My husband was suppose to mail them today but it has been raining so hard since yesterday that he wasn't able to leave the house.
Receiving postcards from different parts of the world is also a great way to learn about the cultures of various countries. I am looking forward to receiving postcards from other members ; it's like taking a peek of what their country has to offer.
Lovingly, Mama
is giving away these wonderful stickers exclusively for PMC mommies ! Four lucky mommies will receive one set each of these vinyl stickers. Sponsored by
Posh Post Reviews
and
Marriage Makers
, this giveaway ends on June 2, 2011.
So if you're a PMC mommy and you'd like to win this sticker, visit Lovingly, Mama and follow the simple instructions on how to join.