Browsing Category: "Personal"
A home renovation project can be quite expensive, more so if it is unplanned and has to be done as soon as possible. We are faced with such situation, with our house being destroyed by the fire and we had to move back as soon as possible if we want to save on rent payments. You see, we still have to pay for the monthly mortgage of our home even if it has been destroyed by the fire and since we are also renting a house where we temporarily live, a great percentage of our monthly budget goes to rent/mortgage payments. We decided that instead of paying for rent, we just have to work on renovating our home so that we can move back in and not have to worry about that extra expense. The funds that we received from our insurance claim was just enough to fix the house's electrical and plumbing as well as the roof; there are still a lot of things that need to be fixed.
We have moved back to our home over a month ago and we are trying to save so that we can have the funds that we need to fix everything that has been damaged during the fire. Not only that, since we also lost most of our possessions during the fire, we are also setting aside funds that will go towards the purchase of furniture and appliances that we need here at home. We do have a few essentials, like a dining table and chairs and even a sofa set that was given to us by our next door neighbor. We have an old TV which we currently use; it has a few defects especially in the picture but buying a new one is not a priority right now. We do like to have a new home entertainment center like before (since we enjoy having movie marathons and we have a couple of favorite TV series that we love to watch), but we still need to spend on more important things such as our kitchen. Maybe after we have completed our home renovation project then we can think about buying new appliances such as a new TV or a DVD player and even some accessories such as new audio speakers and a rode ntg-3 microphone. For now, though, we just have to work hard and save so that we can rebuild our home.
When people ask me about my family, most of them would assume that I am a typical Daddy's girl. Being an only girl and the middle child at that, I wouldn't blame them if they would immediately conclude that I get some sort of special treatment especially from my father. I would love to be a Daddy's girl, the princess of our household, but it wasn't the case with us. And I'm OK with that.
You see, my father was an OFW (Overseas Filipino Worker). He decided to work abroad because he felt that it was the only way that he'll be able to provide a comfortable life for his family. He grew up in a big family, with six other siblings (all of whom are boys) and at times, they can barely make ends meet. I guess this was one of the factors why he decided to work abroad. He willingly took on the sacrifice of being away from us for long periods of time because this will mean that he will be able to provide us with all our needs, make sure that we get into good schools and help his parents and brothers as well.
He would be away for two, three years straight and then come home for a few weeks vacation. We were already in high school when he decided to quit working abroad. The time he spent away from us was one of the reasons why we didn't really have the time to build a really close relationship with him. Although we communicate with him regularly, we would write him letters and send him voice recordings (no FB or Skype at the time and long distance calls cost a lot), there are still times when we would feel awkward when he's home, not knowing how to act around him.
The many years he spent working in a foreign land, being away from us, his family, is a something that we never took for granted. We, his children, never felt bad about the times when he was not able to be with us during the many milestones of our lives (holidays, birthdays, graduation, and even simple celebrations). We knew that it is part of the sacrifice that we all have to make. But even though he was away most of time, he never failed to show us just how much he loves us. For all the love he has shown us, for all the life lessons and for his sacrifices, he is the perfect Tatay for us and our family's unsung hero.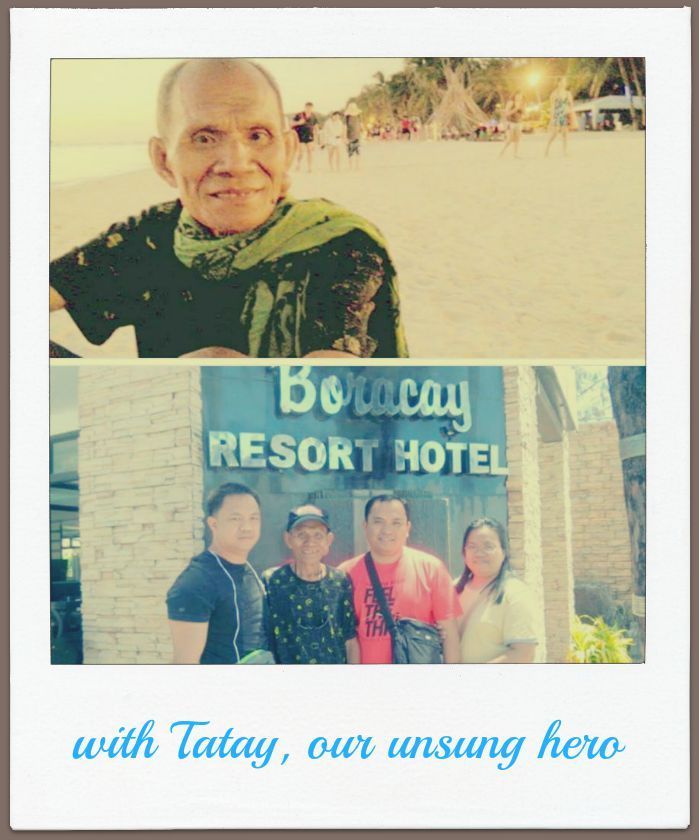 Our Tatay passed away last December, five days before Christmas. We miss him terribly and I still think about him everyday. Even if we still get heartbroken because he is no longer with us, we take comfort in the fact that he is with the Lord and that he is finally reunited with our mother, the love of his life.
Hello, everyone. Yes, It's me. Still here. I'm sure quite a few of you are already wondering what has happened to this blog, why there hasn't been any updates for months.
So what has happened? A lot, actually. Something life changing, in fact. You see, our house burned down last New Year's Eve. While most people are celebrating the arrival of a new year, we are actually helplessly watching our house burning down. While we know that it'll still be months before we have everything back to 'normal', we are trying our best to deal with what has happened.
We are renting a house and it has been a big adjustment for us but I am happy that the kids are taking it well and they have, in their own way, trying to adjust with our situation. Internet connection has been intermittent; I am using a pocket wifi device, which means it connection can really be unreliable and even slow at times (especially at night). If we are just doing some surfing, like looking at new appliances or even some musical instruments for our children such as a guitar or a hillbilly banjo, then we usually just schedule it at nights.
Anyway, I hope to be able to have a more stable internet connection soon so that I can start actively blogging again. See you soon, yes?