Browsing Category: "Home fixtures"
Creating a cozy and inviting space in your home is as easy as choosing the right decorative accessories. Choosing the perfect accents for any room in your home can sometimes be difficult, especially when price and quality are a factor. Adding a footstool to your living room or den will give you a place to prop your feet up after a long day, but purchasing a mediocre quality stool will lead to a short-lived accessory piece. Cowhide footstools, on the other hand, are a wonderful addition to your home because of the dander-free, unique and resilient qualities that they provide. The natural colors and textures within the cowhide itself will offer a unique look and appearance you would not be able to attain from any other furniture piece on the market.

There are a variety of advantages when choosing cowhide footstools to add to your house. Cowhide, in particular, is dander-free and great for people with allergies. This hypoallergenic option is a nice change from the sniffling and sneezing that is often associated with animal fur pieces. Cowhide is also one-of-a-kind, which means that no two footstools will ever be alike. Your cowhide footstool is going to be completely different from the same product found in the same store and from the same manufacturer. This lends to a unique and personalized experience that you will enjoy using in your home for years.
Buying a cowhide footstool means that you'll have the product for a long time without the worry of staining, odor or dirt build-up on your furniture. The hairs in the cowhide are resistant to staining and are free of odors. A good brushing once a week will help to revitalize the cowhide and remove any debris that is found at the base of the hide. The footstool portion of the furniture itself is made of durable wood, ensuring that it is able to stand the test of time and provide a wonderful piece of comfort to your living space. There are certain weight capacities for each footstool you purchase, so it is important to be aware of how much your footstool can withstand before sitting on it.
There are a range of gorgeous colors to choose from when picking out your cowhide footstool. Spotted hide is known to be more traditional and give your room a Western appeal. You can also choose brindle cowhide, which contains a mixture of spots, speckles and stripes. It is also common to acid wash cowhide using both silver and gold dyes to provide the hide with a unique and sophisticated appearance. Whichever color pattern and look you have purchased, you are guaranteed to get a hide that is totally unlike any other. After all, no two cows have the same color pattern, so it makes sense that cowhide resembles this unique quality.
People are often surprised to find how inexpensive and affordable cowhide can be when purchasing their new footstools. Even though cowhide is highly sought-after in home decorating, it is an affordable option when compared to other material varieties. Because it is long-lasting and easy to care for, it is a superb alternative to the traditional cotton or polyester footstools you see in stores so often. Cowhide lends a completely unique and sophisticated look to foyers, dens and living rooms where a footstool would be most appropriate. Even though cowhide is often associated with Western decor, it is an inviting pattern for even the most modern and sophisticated homes. This is due in part to the varying color patterns and options that are available, enabling you to customize the look you are trying to achieve.
There are any number of reasons why you might be experiencing daily stress due to a shortage of storage space. Perhaps you chose a compact apartment with tiny closets in order to live in a location that you consider ideal. Maybe a small house or apartment with few closets was the only thing that fit your budget. It could simply be that you have increased your wardrobe collection since moving into a place that you thought had sufficiently sized closets. Whatever the circumstance may be, the solution to your dilemma could be to add some free standing storage furniture to your room design.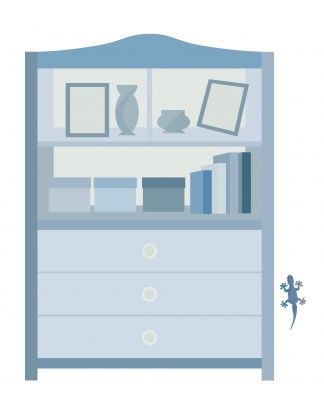 You can solve a shortage of closet space in your bedroom or a child's bedroom with the addition of a four drawer dresser. The ideal solution is to find a source for armoires and dressers that offers a variety of interior configurations. This is almost like getting custom designed bonus storage space for your home. What's even better is to discover that you can buy matching items such as beds and bedside tables. Your lack of closet space can be a source of inspiration for creating a bedroom design that features a variety of furniture pieces created for the purpose of increasing your storage space.
As you explore armoires for the bedroom, you might find yourself selecting a computer armoire for your office or family room. Matching wall units and accent tables can be added to maintain order and enhance the attractiveness of a casual living area.
*Image source: koratmember at FreeDigitalPhotos.net
Having the right audio & video components will allow you to fully enjoy the entertainment center that you have set up at home. It's not about having the most expensive devices but mostly about knowing which goes well with the other devices.
Although branded devices are a more popular choice, you should also look into all the options that are available for you. There may be less expensive devices that can offer the same or even better results. You can also use PCDJ Software if you enjoy having karaoke nights with friends and family. One of the most important things that you should remember before you go and buy different audio and video devices is that you should determine first what you need in a home entertainment center. This will allow you to create one that will surely fit your needs.