Browsing Category: "daily life"
My online and offline life has been so busy these past few months that I haven't had the time for my other passion – reading books. I remember when I was in high school, I could finish a Sweet Dreams pocketbook in just one sitting. I don't even go out of my room during weekends because I prefer reading than socializing with kids my age.
One of my frustrations is that books here in our country are so expensive that one can't help having second thoughts about having to buy an expensive book that one can finish in just a few hours. I would always end up buying second hand books because of it.
Anyway, I finally had a chance to visit the mall last week and while waiting for my husband (who had to buy some art supplies), I went to a bookstore to buy some second hand books. I wanted to buy a couple of books but I know that I won't be able to read them right away so I ended up buying just four books (for now).
There were some books with 'interesting' titles, books that would surely catch anyone's attention:
1.) Why Do Clocks Run Clockwise?
2.) How To Succeed in Heaven Without Even Trying
3.) Before Your Dog Can Eat Your Homework, First You Need To Do It
4.) How To Murder Your Mother-In-Law (I'm sure it's fiction…lol)
5.) What If You Can Unscramble an Egg
I'm going to keep this post short because finally, I can start reading one of the books I purchased because my son is going to use the computer to research for his English homework.
Have a great week everyone and happy reading !
When I decided to start collecting postcards about two months ago, I knew that it will be something that I will truly enjoy. What I didn't know was that there are wonderful benefits as well. And what would they be, you might ask ? Here are just some of them :
* Preparing the postcards that we will send has become a 'bonding' activity for us. My husband is in charge of choosing which stamps to purchase in bulk and he's the one who decides which ones would go well with a particular postcard. I write the address (and the message,of course) on each postcard. I also keep track of which postcards have been sent to a particular person. My children would give 'suggestions' as to which postcard we should send.
* Whenever we go to the mall, my children would be the first ones to remind me to buy more postcards so that we will have enough postcards to send for the coming week. They love going through the stacks of postcards at the local bookstore.
* Browsing through the postcards has made my children appreciate the beauty of the Philippines more . They do not only look at the photo but they read the description at the back too. I know that they are learning a lot from it.
*My children are also learning about our country's geography. It is no longer about memorizing statistics and names of places for them like they do at school. They now have an idea people wear during a certain festival or how different Kawasan Falls is from Tinago Falls.
*Whenever a batch of postcards arrives, my whole family gets excited about them. My husband would not just check on each postcard but he would look at the stamps, too (he collects stamps as well). My children would ask me endless questions about the places that are featured on the postcards. They would say that someday they will travel and see these wonderful places for themselves.
Here are just some of the postcards I have sent so far :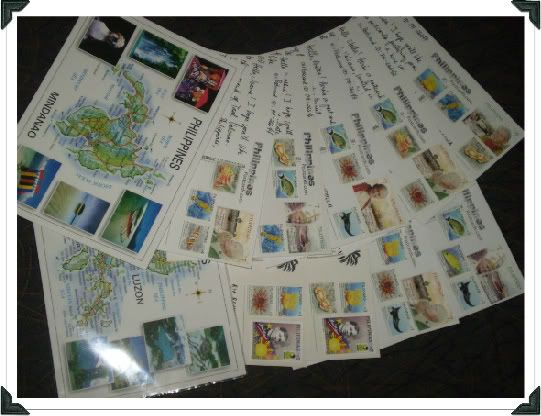 And these are some of the postcards I have received: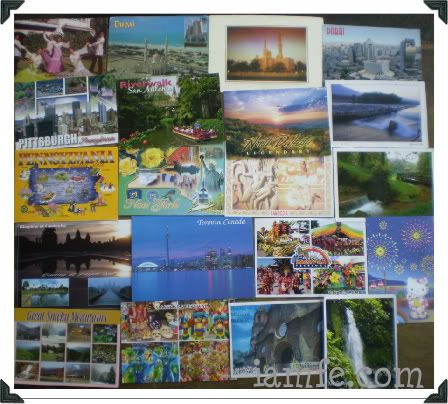 If someone takes the time to pick a postcard, write a message, choose which stamps to put, go to the post office to personally mail it – – all because you have requested to receive a postcard from them, wouldn't that make you feel a bit special and more appreciated? Well, that's what I feel whenever I receive a postcard. The fact that someone would go through all that trouble means a lot to me. Collecting postcards is definitely going to be a favorite hobby – not just for me but for my whole family.
Ever since summer vacation started for the kids, we seem to always end up sleeping late. Like last night, the kids are busy playing with their trading cards , hubby was watching reruns of The Pacific on HBO, while I'm busy with online work. I was actually the last one to go to bed because I was waiting for an email. I thought that since we plan to open our store late today, we wouldn't need to set the alarm and we can wake up late.
That didn't happen though because we were awaken by our dog's incessant barking. I looked at our wall clock thinking that we have overslept but was surprised when it says 4a.m. It definitely wasn't four in the morning because the sun was definitely up and it's already hot outside. It seems we didn't notice that we haven't changed our clock's battery for quite sometime now and that we were so sleepy that we didn't notice that it wasn't working anymore. I told my husband this morning as he was changing the battery that maybe we need to change our wall clock not just the battery since we've had that clock for a few years now. I told him that maybe we can buy a decorative wall clock; something similar to what we saw online. Seeing my husband look at me like I've gone crazy, I quickly told him that I was just kidding…lol. Well, it's not a bad idea, right ? I mean, at some point we do have to change that clock, maybe not today but hopefully soon.*wink*
Anyway, I don't plan to oversleep again anytime soon because the headache that goes along with it is not worth it.