Browsing Category: "contest"
In celebration of its first year blogversary, Samu't-Sari is hosting a Blogversary Blowout as its way of thanking its loyal readers and followers for their support throughout the past year.
PRIZES FOR THE MAIN RAFFLE DRAW ARE:
Diamond Peel + Vit. C Infusion (Valued at Php2450) from Samut-Sari

Pure Beauty Line Set (body lotion, body scrub, body butter, hand lotion) from Earthling Gorgeous

Mary Kay Satin Hands Cream from Shop Till You Drop

Háyden Kho Pèrfume from Earthling Gorgeous

Enna Furano Top from Circles and Dots

Mommy Statement Shirt by Glamma Momma

Mary Kay Sunburst Lipstick from Shop Till You Drop

Bath & Body Works Antibacterial Hand Soap from What's Up?!

Multiply Ladies Shirt from Make Money Online
GENEROUS SPONSORS:
     Samut-Sari
     One Proud Momma
     Make Money Online
     Foodies Galore
     Earn Dollars Pinoy!
     Filipino Virtual Assistant
    Your Filipino Virtual Assistants
     What's Up?!
     Chizmiz to the Max
     The Gimikera
     SamutSari Etsy Store
    Earthling Gorgeous
     Circles En Dots
     Princess Ciara
Glamma Momma
     Shopping Spells
Giveaway runs from October 24th to November 30,2011, EST.
Visit Samu't-Sari for more details on how you can participate.
The Birthday Thanksgiving Giveaway is here ! Life as a WAHM is happy to be part of this amazing giveaway wherein participants get to win Paypal cash.
Mommy Kat of www.MommyKat.info and Mommy Ruby of www.MommyRubz.com is hosting this multi-blog giveaway as Birthday Thanksgiving for their little princesses Max and Bella.
There are 38 blogs sponsoring this event and a total prize pot of $380 can be won by 6 winners. This giveaway event is open worldwide to anyone with a Paypal account during the event or right before the winners are announced. If winners do not reply to the email within 48 hours with their Paypal email address, another winner will be drawn.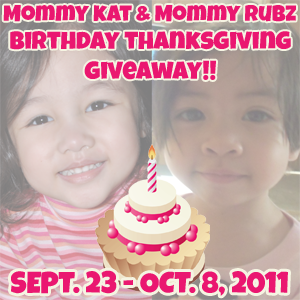 There will be a total of 6 winners for the total prize of $380.
2 winners for $100 each,
2 winners for $60 each, and
2 winners for $30 each
Note: Prizes are gross amounts. Should there be fees during the transfer of payment, it will be deducted from the prize (for cross-country transactions). If there are no fees, then you get the whole amount. You can enter through the form below:

One of the things that I love doing these days is joining online contests. I am always on the lookout for giveaways to join. And I became more enthusiastic about joining these giveaways when I started winning on some of them. Sure, I may have won one in every dozen of contests I have joined, but still, the chances of winning is bigger if I actually participate in them, right?
Anyway, I am truly happy about winning on some of them. Here are just some of my recent winnings:
Make or Break's Biogesic Giveaway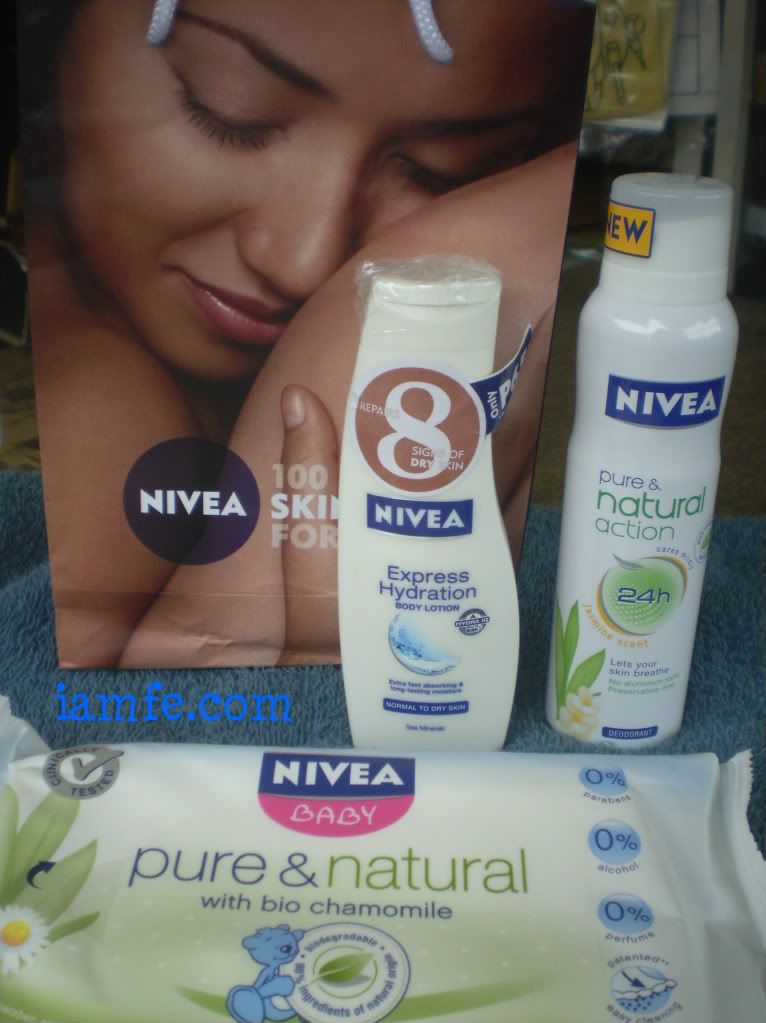 Mom Fashionista's Naturally Healthy & Beautiful Giveaway
Pasko sa Agosto – Swarovski Ruby Bracelet Giveaway
by JanzCrystalz Handcrafts
Brown Pinay's Pasko sa Agosto $15 Paypal Cash Giveaway
I have also won Fotolia subscriptions wherein I can download photos, illustrations and vector images for free and some other prizes from international giveaways.
Lucky ? Could be. But I see them as blessings and I truly appreciate each and everyone of them regardless of their monetary value.
I hope you will all have a great weekend ahead. I have to go for now, I still have some giveaways to join….