Browsing Category: "contest"
Welcome to Promotional Book Tours July 6 Group Tour. We have teamed up with 10 Amazing Authors and several awesome bloggers to bring you a $100 Amazon Giftcard and a $50 Amazon Giftcard!
Please check out the Fantastic authors bringing you these Giftcards
Don't miss out on these great reads even if you don't have a kindle yet. You can download the kindle app for you phone, desktop, or iPad HERE. All of these books are less than a Starbucks Coffee!
To Join…
To Sew With Love is celebrating a new milestone and they wanted to celebrate this by holding a giveaway to thank all of their readers.

LIFE AS A WAHM

didn't want to miss out on the fun either so we teamed up with them to bring you this fabulous Handmade Love giveaway!
This is a winner takes all giveaway which means there will only be one winner who will take ALL of these handmade goodies:
1- $25 Gift Certificate to SV Soaps
1- Lip Balm and Glacé Sampler set (valued at $12.58 + Free Shipping) from Threla
1- Blue quartz necklace (valued at $40 + Free Shipping) from Waterwaif
1- Angelina Canvas Bag in Red (valued at $33 + Free Shipping) from Luckycann
1- Clover Goldfill necklace with pendant (valued at $28 + Free Shipping) from Petitor
1- Facial Serum (valued at $19 with Free Shipping) from Herbolution
1- Baby Headband and Hair Ties (valued at $15 + Free Shipping) from Little Bitty Blossom
That is almost $175 in handmade goodies plus free shipping wherever you are in the world!
This giveaway is

open worldwide

, includes Free Shipping (except for the Gift Certificates) and ends on July 16, 2012 11:59 PM EST. You should be 18+ to be able to participate.
(Rafflecopter form follows)
Read the rest of this entry »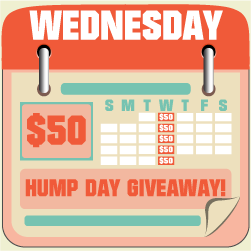 It's time for Hump Day $50 Giveaway and today's event is for RSS and Email Subscriptions. But wait, this week, you can win $50 TWICE since there are 2 groups holding the giveaway! Group 1 is composed of the 27 wonderful blogs listed below so feel free to check them out after joining. A link to join Group 2's giveaway is below the post so make sure you enter that as well when you're done with Group 1.
My Tots Exactly | Frugal Experiments | Money Saving Mindy | Life's Cheap Thrills | Our Travels | Extreme Personal Measures | Make Money Online | Topics on Earth | Exotic Philippines | Pinay Mom in Germany | Mom's Ups and Downs | Life as a WAHM | Ask Rapido | Certified Foodies | Diva Fabulosa | Teach Me 2 Save | When SAHMone Speaks | Wonderful Things In Life | Gen Walks | Healthful Choice | Sonya's Happenings | Retail Therapy Lounge | Mom's Online Magazine | Techie She | Shop Vintage Clothing | Nanay Blogs | The Food, the Places and the Badtrips
There are 2 types of entries this week. You can follow a blog though it's RSS link, which you can subscribe via a Reader or Email, or a link directly to their Email Subscription. For a short tutorial click here but be sure to come back to enter through this blog. A note though: You can only join this on one blog/page. There will be a maximum of 33 entries ONLY. If you have more than 33, I reserve the right to delete duplicate or fraudulent entries. May I request that you use only one name and email address for quicker validation of entries. On the first mandatory entry, please do not forget to write Life as a WAHM referred you since it is a mandatory entry. You must complete the first 2 tasks before the others are enabled, and for all your other entries to count. Thank you very much and good luck. By joining this giveaway, you agree to the Terms and Conditions on the bottom of the form. Contest is open all-day Wednesday, from January 25th, 12:01am EST to January 25th,11:59pm EST (January 25th, 1:01pm Philippine time to January 26th, 12:59pm Philippine time).