Browsing Category: "Consumer Products"
When your child leaves for college, you might feel lonely and sad about not having him in the home. However, it's a time when he can set sail on new adventures and earn a degree that can help to develop a career that he enjoys. While your child is away at college, you can make a care package or two to send so that he can enjoy some of the comforts of home or something besides noodles and cafeteria food all the time.
From candy gift baskets to baskets with essentials for the bathroom, you need to find a basket that is the right size before you begin packing it full. A basket without a handle is usually best to send to a college because it can fit inside a shipping box a bit better than one that does have a handle. Keep in mind that you'll probably pay for shipping based on how much the box weighs, so try not to pack the basket too full. Sometimes, sending two smaller baskets is less expensive than sending one large one.
A candy basket is an idea if your child enjoys candy. It's also a good gift to give if you want your child to know how sweet he is or if you want him to have something other than a pack of noodles or a sandwich to eat. This type of basket is also an option if you have a family member or friend who is in college and you want to send a cheerful gift.
Another type of basket that you can make is one for the bathroom. This would include toiletries that your child might not be able to purchase because of a lack of funds or a lack of transportation to get to a store to get what is needed. You can make a basket with shampoo, conditioner, soap and other things that are normally used in the bathroom. Check with the post office to make sure you can send liquids in the mail. Other baskets that you can make can include school supplies, things that your child might not have packed or a basket of treats to enjoy while sick.
Years ago, when musicians have to record music they have to rely on the services of professional musicians who have access to large recording studios that have all the latest equipment. This also means that they have to spend a substantial amount of money just to use a recording studio and be able to record their own songs or create a demo.
Fortunately for musicians of today, all of that has changed. With the advancement in technology, one can choose to set up his own recording studio at home without having to spend a fortune on equipment alone.
If you're a budding musician and you want to have the comfort and the freedom that comes with having your own recording studio at home, there are some basic gear and equipment that you have to keep in mind in order to have a fully functional low-cost home recording studio.
You don't necessarily have to have the latest desktop or laptop computer. A basic one would do especially if you're just starting. You can upgrade your computer once you have a clearer idea of what you need in relation to your recording needs and to your music. You should also consider common mobile devices; they have apps that are specifically used for recording or mixing sounds.
Audio Interfaces for Recording
You can use it to convert the sound you are recording into digital data that will then be used with your audio software. It is also where you can connect your recording gear with your computer.
The software that you will use will provide you with the tools you need to help you edit, record, mix, and arrange your music. There are a number of audio software that are available in the market today, choose one that is suitable for beginners and has all the features that is appropriate for all your recording needs.
Choose studio monitors that are not only suitable to the size of your studio but are also designed to accurate playback.
Among the basic recording essentials that you have to invest in in setting up your own home recording studio are microphones, headphones, mic stands and cables. Keep in mind that the most expensive ones are not necessarily the best gear to buy. There are high quality recording gear and equipment that are also affordable. Take the time to research about the various gear and equipment that are available in the market today and learn which ones are known to deliver high quality results. You can read reviews and feedback by other musicians so that you have a clearer idea of which brand or model is the most suitable for the kind of recording studio that you want to set up.
With these basic essentials, it'll be easier and less stressful for you to have a functional home recording studio that you can use whenever you want.
After the exciting but somewhat overwhelming experience of choosing your first guitar, your next concern would have to be buying guitar accessories. These guitar accessories are important to every guitar player and you must have them with you every time you play your guitar.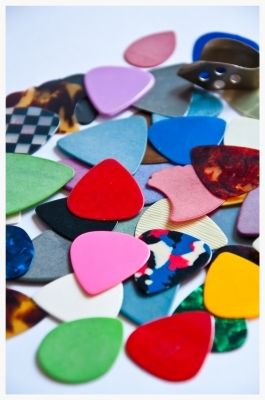 Among the essential guitar accessories are:
• Guitar picks – They are the most commonly used guitar accessory that every guitar player should invest in. They come in different sizes, colors and thickness. There are stores that offer a wide variety of them such as the excellent dimarzio area prewired pickguards at musicians friend. It is advisable that you buy a few of them. The very thin ones are best in helping you learn how to strum well while those with medium thickness are ideal when learning how to play notes individually.
• Strings – Having spare strings can save you from a lot of stress especially when you need to play your guitar for a performance. It is important that you know how to replace your guitar strings on your own.
• Tuner – Tuning aids such as electronic tuners and tuning fork provide a quick and precise way of keeping your guitar in tune. Choose those that are suitable for the type of guitar that you have.
• Straps and guitar case – Guitar straps help prevent your shoulders from getting sore especially if you're using a slightly heavy guitar while a sturdy case does not only protect your guitar from unnecessary damage but it also allows you to conveniently carry your guitar with you when you travel.
Other important guitar accessories include music stand, slide, display folder and the capo. Knowing how to choose the right ones does not only make you enjoy your guitar more but more importantly, help you enhance your guitar playing skills.
*Image source: jiggoja at FreeDigitalPhotos.net