Browsing Category: "Bag Giveaway,"
Welcome to the Maggie Bags Tote of Many Colors Giveaway! 
Sponsored By: Maggie Bags
Hosted By: Mami's 3 Little Monkeys
Maggie Bags are made with automotive seat belt webbing which is built to
meet government safety standards to protect us while in a vehicle. With the
governments high standards, millions of yards of seat belt material are
rejected each year by automakers, so Maggie Bags uses as much of these
rejected materials as possible to create their durable seat belt purses
and handbags. Maggie Bags launched their first line of unique
seat belt handbags in the spring of 2009 with only a handful of
retailers and a small online store. However, today their fashionable and
functional seat belt purses and handbags can be found in hundreds of retailers
across the United States as well as many online retail stores and their
very own online store.
Their stylish and durable bags will definitely spice up your wardrobe.
Read Mami's 3 Little Monkeys full review! 
Discount Code!
Use discount code MAMIS3MONKEYS18 to receive 18% OFF your order at Maggie Bags! No minimum purchase required. Expires March 31, 2014. 
GIVEAWAY! 
One lucky reader will win a Tote of Many Colors of their choice! 
This giveaway is open to US residents whom are at least 18 years of age. Ends at 11:59pm CST on March 28th.
For your chance to win complete as many or as little entries as you wish. There are only two mandatory entries into this giveaway, once you've completed those two entries, all other are optional. The more you complete the better your chances of winning! One winner will be chosen at random on or after March 29th, winners entries will be verified. Winner will then be notified via email if their entries were indeed fulfilled. The winner will have 48hrs in which to respond to the email or a new winner will be chosen. 
Disclosure: LIFE AS A WAHM  is not responsible for the fulfillment of the prize. Prize will be fulfilled and shipped directly by Maggie Bags. If you have any questions or would like to see your products/brand/services featured in a similar event please contact Sarh at mamis3littlemonkeys@yahoo.com
Welcome to The Glass Handbag Giveaway!
Giveaway hosted by,
Jenn's Blah Blah Blog and Pink Ninja Media.
Special thanks to our co-hosts,The Frugal Fairy, Capris Coupons, It's Not Just Another Bag, Swan Savings,
Coupons and Freebies Mom , Adventures of a Military Family of 8, and Sister's Saving Cents
HERE'S ANOTHER GREAT GIVEAWAY YOU WOULDN'T WANT TO MISS !
About our sponsor: Glass Handbags
If you love handbags, a true luxury designer handbag than you're going to love Glass Handbag. These handbags are luxury handbags that stand apart from any other handbag on the market. Every Glass Handbag has an integrated light system, the functional designer lighted handbags offers a fashionable look for anyone. If you're looking for a quality handbag, these handbags are hand-made by skillful craftsman that are true professionals in leather, hardware and electronics.
Inside a Glass Handbag : The unique lighting system takes up no space, only provides low power consumption, flexibility, long lasting battery life and true beauty. This unique lighting system cannot be found anywhere else. These handbag's represent true quality, like no other handbag I have experienced before. Rest assured, when you choose Glass Handbag you're choosing the best handbag available on the market.
About the prize: One very lucky winner will choose their very own Glass Handbag (up to $1000 value).
Giveaway will run until October 15th at 11:59pm EST, must be 18 years or older to enter.
Everyone enter this giveaway is open Worldwide!
Use the Rafflecopter below to enter. It's a large event, valued up to $1000 depending on the handbag the winner chooses. This event runs an entire month, so feel free to come back and finish or to visit daily to earn extra entries. Thank you for participating in another amazing Glass Handbag Giveaway.
Good Luck!
Disclaimer: LIFE AS A WAHM is not responsible for shipping prize to winner, prize will be shipped directly from sponsor. We did we not accept any payment for promoting this event.
Welcome to Our Grand Finale of
"Win This Bag"
Sponsored by
HipSwap
Hosted by
Sidetracked Mom's Blog
It's finally here! The Grand Finale of the Win This Bag series of giveaways is here!! We've combined weeks 5 and 6 into a two-week long giveaway giving you the double the opportunity to increase your odds of winning by completing the daily bonus entries!
We would like to thank all those who have participated in the giveaway since the first week and congratulations to the previous weeks' winners as well.
You'll have from 7/24/12 through 8/6/12 to claim as many entries as you possibly can!If you can remember to revisit your favorite blog to claim your daily bonus entries, you'll have a huge advantage (2 weeks worth!) over the rest of the competition!
But before we announce the Grand Finale bag, here are a few words about our sponsor who made this entire 6 weeks worth of giveaways possible!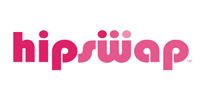 HipSwap is a mobile and web marketplace that connects buyers and sellers locally and nationally. It enables people to discover what's inside the most fabulous closets, homes, and shops in neighborhoods and cities across America. HipSwap currently offers delivery service in Los Angeles and New York with its iconic pink delivery van.
Also, be sure to swing by the HipSwap blog to check out their ever popular post on how to spot a fake Louis Vuitton bag!
So, far HipSwap has generously supplied us with a Fendi Spy Bag, a Louis Vuitton bag, a white leather Tod's handbag and a Gucci Hobo Bag! Are you ready for the brand that will be featured in our Grand Finale?!
This week, you have the chance to win an authentic Chanel tote worth $1,300!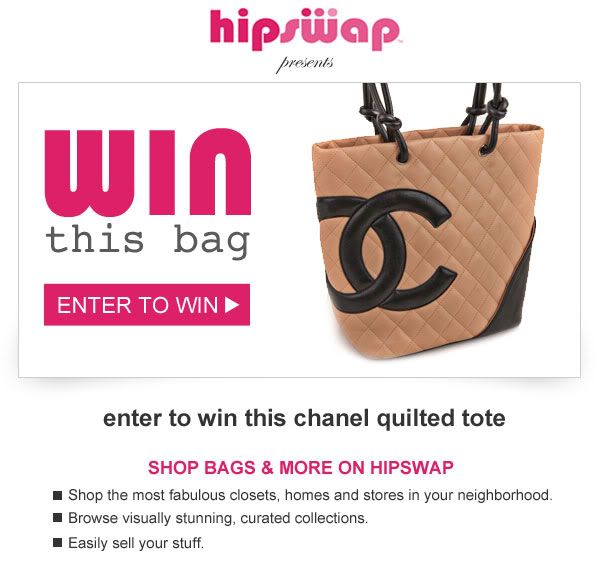 This beige quilted leather Chanel tote is a one-of-a-kind find. It features a black leather trim and large "CC" on side to make it easily distinguishable as the one of the world's most prestige designer brands.
Dimensions: 11″ x 10″ x 5″ with 7″ straps. Estimated Value: $1300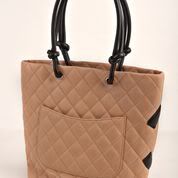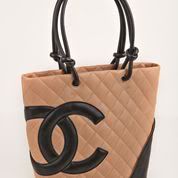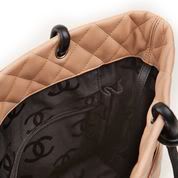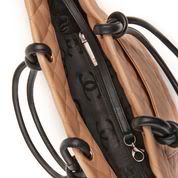 This beautiful handbag was provided by the amazing DoubleTake Consignment Boutique of New Jersey.
The DoubleTake Consignment Boutique first opened its doors in Short Hills, New Jersey in 1992.From day one the store has been packed with women who understand the advantages and value of consignment shopping. DoubleTake only accepts the highest quality & current designer clothing and accessories and has been recognized as a unique clothing boutique where huge savings can be realized.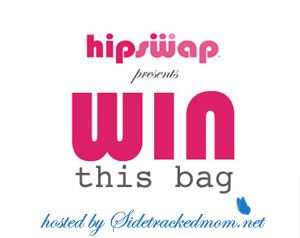 How to gain entries in this giveaway:
There is only one mandatory entry option; and that is to create a free HipSwap account. However, by entering on this blog through the Giveaway Tools widget below, you have the opportunity to gain a large number of bonus entries! You can complete as many or as few bonus entries as you'd like but remember, the more you do, the better your odds of winning! Plus, once you are following all of your hosts, entering each subsequent weekly Win This Bag Giveaway will be even faster & easier! As promised, you'll find additional bonus entries to claim for having entered our previous weekly Win This Bag Giveaways!
Good luck!
Giveaway begins on 7/24/12 at 12:01am EST & ends on 8/6/12 at 11:59pm EST.
Open worldwide.
The Giveaway Tools Widget will load below this line. For those of you not familiar with Giveaway Tools, it is VERY similar to Rafflecopter but has been said to be a faster & easier way to enter giveaways. Let me know what you think! As always, thank you for visiting LIFE AS A WAHM and entering our giveaways! Good luck to you!
Javascript must be enabled to enter this giveaway. Learn how to activate Javascript by
clicking here.
Javascript must be enabled to enter this giveaway. Learn how to activate Javascript by
clicking here.

Loading Entry-Form
This giveaway is open to entrants worldwide 18 years of age or older, except where prohibited by law. No purchase is necessary to enter. Void where prohibited by law. The odds of winning are based on the number of entries received. This promotion is no way sponsored, endorsed or administered by, or associated with, Facebook and is Facebook-compliant. To qualify to win, you must complete, at minimum, the mandatory entry on the Giveaway Tools form. All entries will be forwarded to our sponsor for the purpose of randomly selecting a winner. Winners will be notified by email from a HipSwap representative. Winners will have 72 hours to respond or risk forfeiting their prize. Prize may re-awarded solely by the Sponsor's discretion. Prize fulfillment is the sole responsibility of the sponsor. This blog may not be held liable for Sponsors who do not fulfill prize shipments. The participating bloggers were not compensated for this post. We reserve the right to publicly publish winners' names and/or likeness. By entering this giveaway, you are agreeing to these terms and conditions.